ENGLISH
En Kanzaki
Head of Kanzaki 
School of Jiutamai, a Japanese traditional dance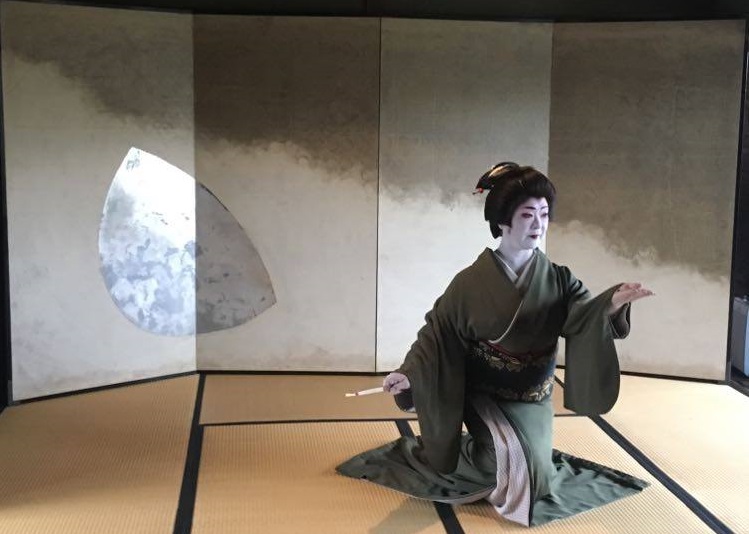 Kanzaki School was established in 1935 and En Kanzaki succeeded to the Head of the School in 1999.
Since 1978, she has held the annual performance event "En no Kai", a main performance event for the School, at the National Theater. She performed the Jiutamai in Paris in 2011. As an effort to promote and hand over Jiutamai tradition to the future generation, she organizes Jiutamai lecture study events and workshops for young generation dancers  several times a year.
 About Jiutamai, traditional dance
While "Noh" has been mainly appreciated by Aristocrats and Samurai.
Jiutamai has been supported by rich merchants and developed in the Edo Era.
"Kabuki" first started in Western Japan and its popularity grew rapidly in Edo (Tokyo). During such a period, it has been elaborated to appeal to wider audiences. Typically, dance performed during "Kabuki" play is arranged as a part of a story, with frequent changes of scenery and costumes.
Jiutamai dance adapts a part of "Noh" or "Kabuki" play (Honkadori), making it into a short dance performance. The basic format is that a dancer is accompanied by a performer who sings Jiuta poem while playing Shamisen.
Sometimes Koto and Chinese fiddle may join the performance. It does not explain explicitly the whole story and audiences will enjoy reading between the lines.
"Jiutamai" dance features less movement and slow tempo like "Noh" movement, expressing the spirit of the main character of the story.
To the contrary, typical "Kabuki" dance is played with much more dynamic movement.
Jiutamai is a performance tailored to a zashiki room, typically in a personal residence or  reception room in a Japanese restaurant (Ryoutei) for limited numbers of selected  audiences just like a "Salon".
Even a subtle gesture or a fragment of the Jiuta poem would imply the essence of the story and audiences are assumed to have certain intelligence to better appreciate it.